For the details click here
Clay wood-fired bread oven construction workshop
June 26-27-28, 2015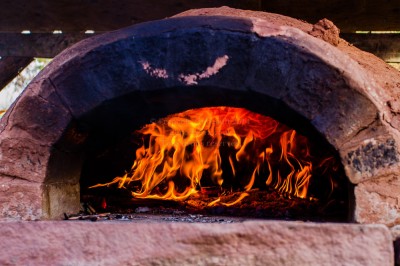 Overview
Clay bread ovens are part of the cultural heritage of Québec. Only a century ago, Québec farmers relied on their own labour and know-how to build wood ovens from the materials they had on hand: clay, sand, wood and stone. We don't need more than that today to build a quality oven that will not only bake bread, but also gourmet pizza, sweet and savoury pies, cookies and biscuits, vegetables, meats and patés, and various desserts. For details of the construction, click here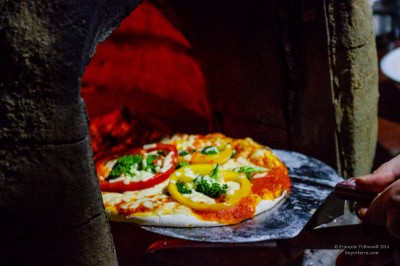 With a wood fire burning directly on the oven hearth, a clay bread oven stores in its vault and floor significant heat that will radiate, after removing the fire, into the food we want to cook. This type of radiant cooking is ideal for baking bread, whether large rustic wholegrain sourdough loaves, or dainty pastries and delicate cakes.
With any means at hand we can build a clay oven in a few days; clay soil is all that is needed. However, with a little more preparation, more time and with modern materials (fire bricks, cement, insulation) we can build a larger and more resistant clay oven, on a firmer base under a spacious shelter. This type of oven can last about ten years.
Whether for an annual pizza party or for weekly baking, you only need to learn a few simple techniques to build a beautiful piece of art that will become the focal point of any community.
SCHEDULING, ARRIVAL AND DEPARTURE
This is a two-and a half day workshop. Participants will arrive between 3pm and 5pm at
Au Petit Boisé
986 Hudon Road
Dunham, Québec
J0E 1M0
The workshop begins with a dinner on Friday, June 26th, and ends Sunday afternoon, June 28th.
OBJECTIVES
François Thibeault will lead the participants in the construction of the wood-fired clay oven. The particiapants will:
Lay the fire bricks for the oven hearth;
Form the sand dome for the oven vault;
Prepare different clay mixtures to be used in the dome, the insulating layer, and the exterior finish;
Apply the various clay layers that will lead the oven to its final form.
The workshop will also include theoretical elements concerning (1) baking bread in a wood-fired oven; and (2) the general principles of clay oven building.
The goals of this workshop are to support practical learning with simple principles and construction techniques with a down to earth approach. Thanks to the direct involvement of the participants in the building process, they will acquire enough experience to build their own earth ovens.
After the workshop, participants will have access to online resources about earth oven building.
To learn more about Francois Thibeault click here
COSTS
225$ + Tx= 258.69$
This includes:
Two dinners, two breakfasts and two lunches (all meals are vegetarian);
Sites for tenting, access to toilets and outdoor hot shower;
Hands-on experience, theoretical presentations, notes and online resources.
Limited to 12 participants.
To sign-up, please send a cheque for the total amount to:
Au Petit Boisé
986 Hudon Road
Dunham, Québec
J0E 1M0
And fill out this form:
Four a pain-Inscription-Registration
Vous devez remplir ce formulaire pour vous inscrire à la formation. Votre place sera réservée une fois que nous aurons reçu votre paiement./ You must fill out this form to participate in the course. Your spot will be secured once we receive your payment
.