No pesticides or chemical fertilisers.
Have you heard of Community Supported agriculture (CSA)? It's like having your own private farmer who provides you with a wide selection of fresh vegetables every week.
CSA is a direct exchange between producers and consumers. The consumer buys a share into the farm at the beginning of the season, thus becoming a partner in the endeavour. In exchange, the farm commits to providing quality produce, usually harvested the day before, or even the same day.
Example of seasonal vegetables: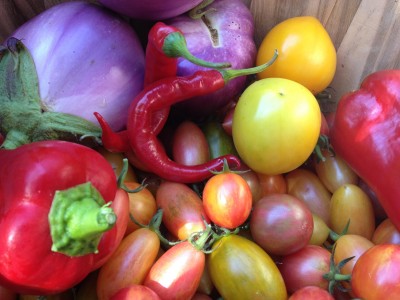 Beginning of the season:
Shallots
Radish
Broccoli
Kohlrabi
Swiss chard
Lettuce
Sunflower sprouts
Cipollini (early fresh onions)
Chinese cabbage
Garlic scapes
Basil
Kale
Mid-season:
Tomato
Cucumber
Zucchini
Fresh garlic
Snap peas
Lettuce
Coriander
Red and yellow beets
Ground cherries
Carrots and greens
Green beans
Etc…
End of season:
Leeks
Butternut squash
Red bell pepper
Onions
Carrots
Baby salad mix
Spinach
Rutabaga
Brussel sprouts
Cherry tomatoes
Cabbage
Parsley
Fennel
Romanesco
caulifllower
Etc…
Each basket contains between 9 and 12 vegetables, depending on what's available in the garden. It's a surprise every week!
Dates: Mid-June to the end of October
2 choices:
-weekly for 20 deliveries, 630$ for the season
-every two weeks for a total of 10 deliveries, 340$ for the season
SIGN UP HERE for WEEKLY or Bi-WEEKLY BASKETS
SIGN UP HERE for BASKETS ON DEMAND
Drop off point:
–Farm in Dunham, anytime, perfect for weekenders (we keep the box in the cold-room)
–Sutton Round-Top Bagels, Thursdays 4-8pm (1 Principale Sud, Sutton)
Sign up: Starting March 1st. (Spots are limited)
Contact: Michelle Décary
Phone: 450-931-2471
E-mail: aupetitboise@gmail.com
Or better yet, come and meet us!
SIGN UP HERE for WEEKLY or Bi-WEEKLY BASKETS